The Communications Authority of Kenya (CA) has revealed that its Director General, Ezra Chiloba, was suspended over alleged abuse of the authority's mortgage scheme. A report from a ninth special Board Audit and Risk Assurance Committee (Barac) meeting held on August 8, 2023, indicates that Chiloba, along with nine others, "fundamentally breached their obligations arising under the contract of service". Here are the allegations:
1. Self-Approval of Mortgage Loan
Chiloba is accused of applying for and self-approving a mortgage loan without exercising due process. The loan was reportedly to facilitate the purchase of a property between Chiloba and another individual.
2. Exceeding Land Acquisition Limit
The suspended Director-General allegedly purchased a house and acquired land of seven acres, which is beyond the allowed one-acre limit under the Civil Servants Housing Scheme requirement.
3. Lack of Due Diligence in Loan Application Process
The authority alleges that no due diligence was exercised during the loan application process, leading to the omission of relevant information. The loan application was reportedly approved by a junior staff member without evidence of requisite due diligence and advice to management.
4. Remittance to Personal Account
Questions were raised after it was noted that the authority remitted money to a bank account held by Chiloba under the company name Kitale Hilmost Ltd., who was also posed as the buyer. Further interrogation revealed that Ezra Chiloba Simiyu, who is also the buyer, is the sole director and shareholder of Kitale Hilmost Ltd.
5. Accusations of Misconduct in Office
Chiloba is also accused of misconduct while in office. As the Director General and Accounting Officer for the Authority, his conduct and integrity were found to be in contravention of Sections 11, 12, and 13 of the Leadership and Integrity Act and in breach of the Code of Ethics.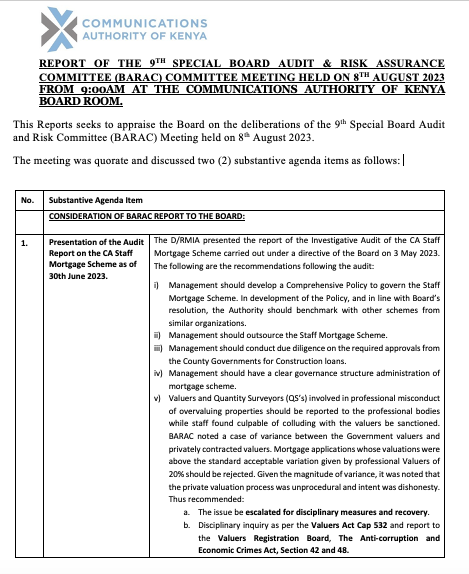 Following Chiloba's suspension, Christopher Wambua was appointed as CA's Director General in an acting capacity.