Fans on social media who have been wild with anticipation after actor Dominic Purcell shared the news of a possible return of the Fox Tv show Prison Break for a sixth Season are in for a major heartbreak. Techspaceke can now confidently confirm that the show is not happening after Wentworth Earl Miller III resigned from his role as Michael Scofield.
Miller who has received a lot of backlash since coming out as gay says he will not continue to play the role of Michael Scoffield who is a straight man.
"I just don't want to play straight characters. Their stories have been told (and told)." He wrote on his Instagram.
"So. No more Michael. If you were a fan of the show, hoping for additional seasons… I understand this is disappointing. I'm sorry."
Dominic Purcell, who portrays Lincoln Burrows extended his support for Miller's decision writing; "It was fun mate. What a ride it was. Fully support and understand your reasoning. Glad you have made this decision for your health and your truth. Keep the posts coming. …. love ya brother. ❤️❤️❤️❤️"
Purcell had been pretty optimistic about another season. Most recently taking to Instagram to reveal that a new season was definitely in the works. Purcell has since deleted the post
Asked about a season 6, the actor replied "Not happening, sorry. Tell your Friends."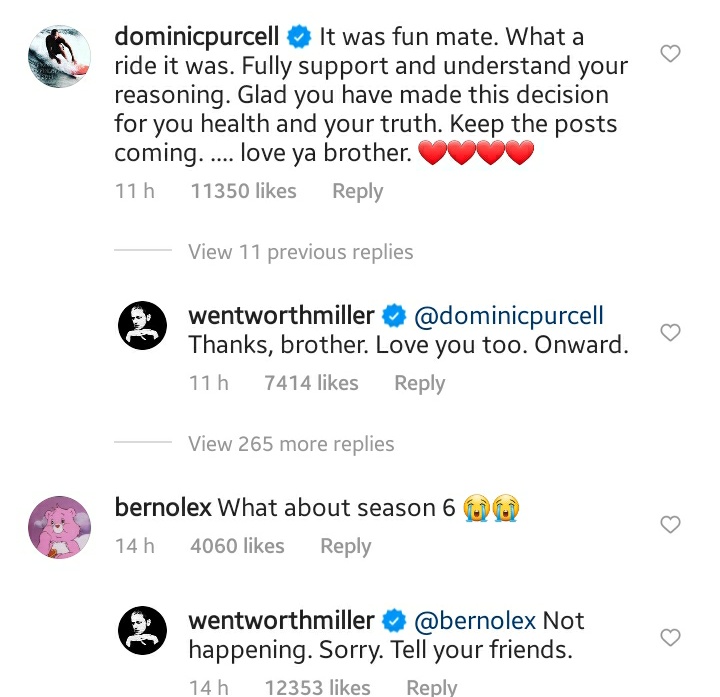 Prison Break first premiered on Fox in 2005 and became a massive hit with the audience. It ran for four seasons and ended in 2009. Finally, in 2017, the show ran a new season- Prison Break: Resurrection which consisted of 9 episodes.
Back in 2016, creator Paul Scheuring said that the 2017 revival was the end of Prison Break.