After a changelog on the mySafaricom app update showed that the telco was adding dual Safaricom eSIM support, it was only a matter of time before the telco officially introduced it to the Kenyan market.
Taking to social media, Safaricom yesterday quietly announced the introduction of the new technology writing, "all your biashara and personal lines can now be managed on one device. Better yet, you don't have to switch physical SIM cards!"
The term "eSIM" simply means an embedded SIM card. There are no physical SIM cards involved and no physical swapping over required by you.
Also Read: How to Check Safaricom Home Fibre Coverage Areas 2021
An eSIM is basically a small chip inside your phone and works in a similar way to the NFC chip that's used for payment tech like Apple Pay and Google Pay.
The information on an eSIM is rewritable, meaning you can decide to change your operator if you want. They're really easy to add to a data plan as connecting devices with eSIMs to a mobile account can be done in minutes
How to get Safaricom eSIM
Safaricom says you can switch the eSIM at any Safaricom shop near you, However, the e-sim is only available on select devices.
This is because only a few devices in the market have support for eSIM technology. They include iPhone XR, XS, XS Max, 11, 12, and SE 2020 and Samsung Galaxy S21, S20, Z Fold 2, and Note 20.
If you have a supported device, head over to a Safaricom Shop to migrate. Safaricom will charge you Sh250 for a new eSIM and Sh150 for migration from your old sim card to eSIM.
Once you pay, you will be provided with a physical card that hosts a QR code for the eSIM activation code together with the traditional 2 PINs and PUKs.
To activate the eSIM, all you have to do is scan the QR code and follow the instructions on your phone. An internet connection is needed for this.
Your phone will then install the necessary eSIM configurations. The process takes about 20 minutes and the eSIM is working fine for both calls, data, SMS, and the Sim toolkit as well.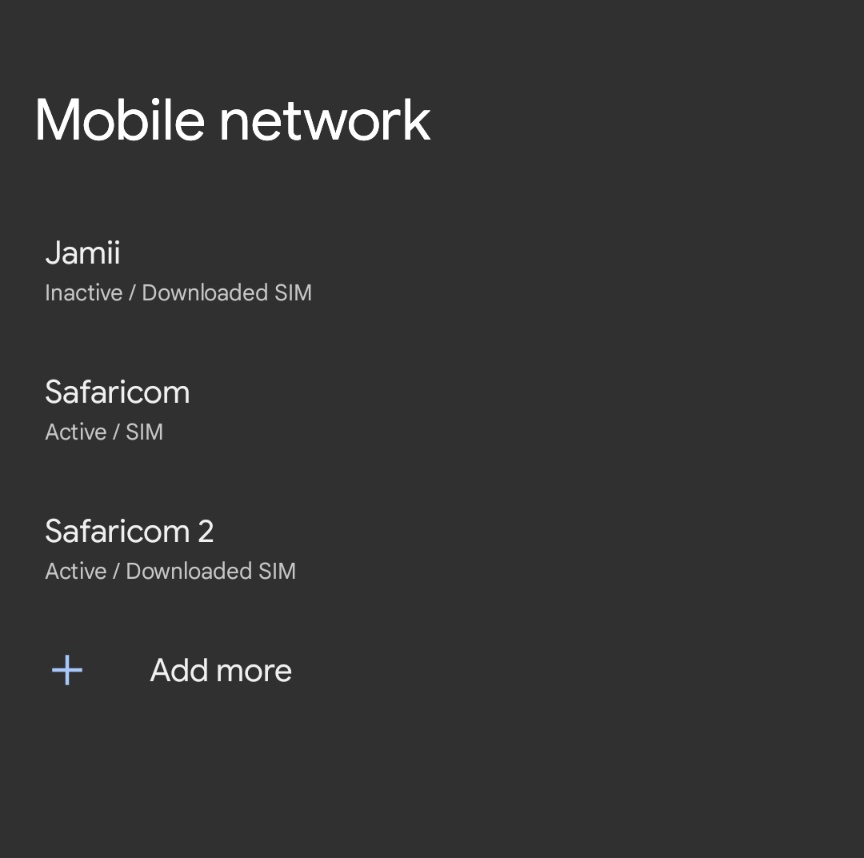 Safaricom joins Jamii Telecom's Faiba4G which already supports eSIMs in Kenya.
Why you would want an eSIM
Allows you to have more than one phone number on a device.
Your eSIM can't get lost.
People who move across many countries can switch between operators and cut on their roaming fees.