Yesternight, Apple announced the latest addition to Apple's desktop Mac lineup, the Mac Studio. Powered by either an M1 Max or the new M1 Ultra chipset, the Mac Studio targets users looking for more oomph than the iMac can deliver in an enclosure that's even more compact than the Mac Pro.
Speaking of users? Which users exactly is the new Mac Studio targeting? Rich ones of course. The Mac Studio with an M1 Max chipset, a 10-core CPU, and 24-core GPU, along with 32GB of unified memory and a 512GB SSD starts at $1,999.
Bumping the GPU on the M1 Max to 32 cores adds another $200 to the Mac Studio's price. When you double the CPU cores to 20 while opting for a 48-core GPU you will part with $3,799. A 64-core GPU adds another $1,000. Though you also double the number of cores in the M1 Max's neural engine to 32 cores, up from the 16 cores in the base model on the latter models. Apple will let you max out the storage to 8TB on the M1 Max-powered model.
Powered by the newest and flashiest M1 Ultra, this spec'd Mac Studio starts at $3,999 and comes with 64GB of memory and 1TB of storage in the base model. There's a 128GB memory option for the M1 Ultra machine, and you can add up to 8TB of storage. An M1 Ultra with a 48-core GPU costs $1,000 more than the base configuration with its 32-core GPU.
Mac Studio Specs at a glance
So now you know the design, the price, and some of the specs you're getting for your money, but should you get it? is it made for what you do?
This is a very hot take, but I find the Mac Studio has almost no use outside of video editing, maybe a little graphic design when paired with the iPad air and/or music production. While it will most likely be the best in this niche, this makes it pretty overpriced.
I initially thought developers too, but something tells me an M1 MacBook is still good enough for that. So personally, YouTubers shooting and editing 8K content are the target market, Video editors specializing in VFX, major production companies, and Music Producers. Maybe even some game developers using platforms like unreal engine will make use of the powerful machine.
If you happen to be in that field, you will not get better elsewhere.
Mac Studio Specs at a glance
Before I forget, the Mac Studio is designed to work with Apple's new Studio Display, a 27-inch desktop display that was also introduced at Apple's Performance event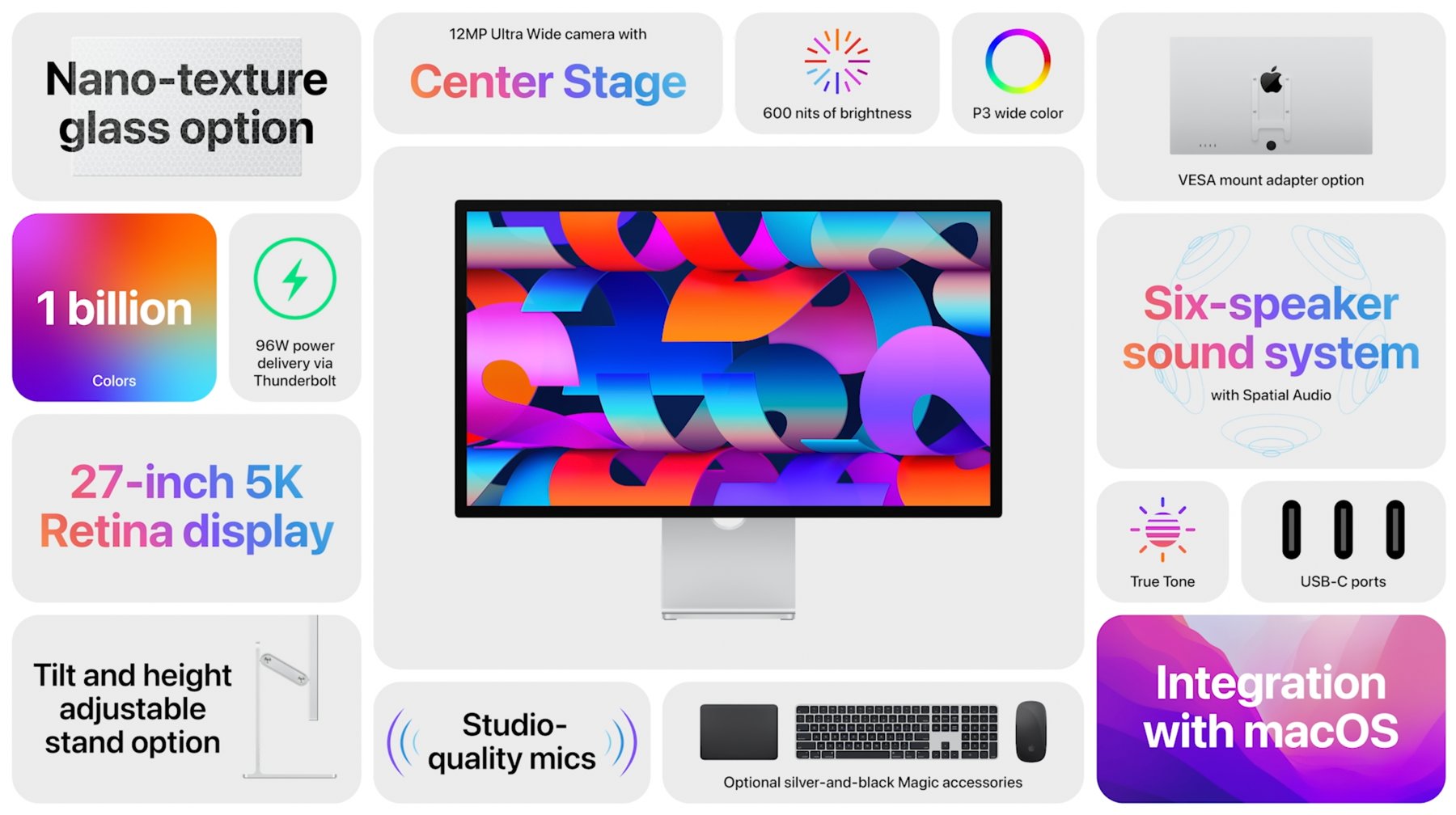 Apple says it designed Mac Studio together with the new Studio Display for the ultimate studio setup. With its breathtaking 27-inch 5K Retina display, 12MP Ultra Wide camera with Center Stage, studio-quality three-mic array, and six-speaker sound system with Spatial Audio, Studio Display completes the full Mac experience.